Price Computing Scales.com sells and services CAS Retail Counter Scales
CAS ER Jr Price Computing Scale
Eliminate all the speculation out of pricing with the CAS ER Jr line of NTEP approved class III legal for trade price computing scales which is a standard function calculating weight scale for one on one sale of commodities in shops such as grocery stores, delicatessens and food stores. Created for mobile usage with AC electrical power and built-in standard rechargeable battery pack, the ER Junior certified scale is fantastic for farmers markets, hoagie shoppes, bakeries, chocolate and gourmet coffee retailers, convenience stores, fruits and vegetables markets, hardware retailers plus much more. Comes with a thirty pound total capacity.
The ER Jr legal for trade certified price computing scale demonstrates CAS High quality and will provide you with many years of reliable service at an inexpensive cost. The ER Jr includes a 30 pound dual range NTEP approved total capacity. The scale has (3) direct price lookups (PLU's) and features a bright liquid crystal display on the operator side for the scale user and on the buyer side for the customer to check out. The screen features a vivid blue backlight.
Features of the ER JR Price Computing Scale
• 30 lb capacity - dual range
• Lb & kg unit switchable
• LCD display with backlight
• 3 Direct PLUs
• Dual display on front and back (clerk & customer)
• AC or Battery operated
• NTEP Legal for trade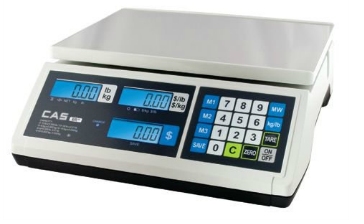 The ER Junior is totally transportable with the built-in rechargeable battery pack which will last up to two hundred hours (without backlight) on one charge. A low battery indication informs you when it's time for a charge. The ER Jr legal for trade produce scale has a modest footprint at 11.75 inches by 12.75 inches and can fit very easily on countertops, conference tables or any restricted work area. With best in class characteristics and an inexpensive price tag, you can put several ER Jr price computing scales all through your company to guarantee client satisfaction and optimum productivity. Further standard characteristics include things like lb/kg unit switching and 3 different ways to enter a tare weight: platter tare, keyboard tare, and programmable tare for a PLU.
Just how many inexpensive price computing scales offer well matched label and receipt printers? What was previously impossible is currently a really economical optional add-on accessory. Combine the CAS DLP-50 label printer or CAS DEP-50 receipt printer simply by connecting the included RS-232 serial cable to the weighing machine. Excellent solution for companies with limited funds. The DLP-50 label printer will print standard label format with item weight, unit price, and total price. An economical substitute for a full featured label printing scale, the ER Junior will be a great selection for start-up companies, farmers markets, outdoor markets, chocolate stores plus more.
ER Jr Specifications

Capacity
30 lb (0-15 x 0.005 lb / 15-30 lb x 0.01 lb)
15 kg (0-6 x 0.002 kg / 6-15 x 0.005 kg)
Display Type
LCD with backlight
Operating Temperature
-10° C ~ 40° C / 14° F ~ 104° F
Power
12V DC Adapter
Rechargeable Battery (6V, 3.6Ah)
Battery Life
Approx. 200 Hours LCD (no backlight)
Platter Size
11.6 (W) x 8.6 (D)
Dimensions
11.75 (W) x 12.75 (D) x 4.6 (H)
Product Weight
10 lb
Approvals
NTEP COC# 10-090