The Brecknell PC3060 Price Computing Scale is NTEP approved, Class III and ideal for the small Candy Store selling fudge or perhaps the strawberry farmer selling at the local Farmers Market, or maybe the small rural Grocery Store.
By combining two capacities into one scale, it provides you with a wider weighing range. The 0-30 x .01 lb / 30-60 x .02 lb capacities allow you to weigh smaller and larger products on the same scale without losing resolution. In many ways, this is kind of like having two scales in one.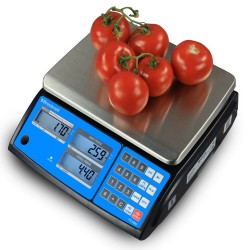 The large, easy-to-read back lit dual display shows the weight, unit price and total price and allows the customer to view the information at the same time. It features an auto unit price clear to clear the last unit price once the scale returns to zero, stores up to ten most popular PLUs and it can accumulate up to 100 entries and calculate what change needs to be given back to the customer.
The small footprint takes up little valuable counter space. The food grade 304 stainless steel weight platter protects against corrosion and is easily sanitized, while providing an attractive finish.
The scale operates on an AC power adapter (included) or a 6V/3.2 Ah lead acid rechargeable battery that provides up to 40 hours of battery life. The dual power option gives you portability without having to locate power outlets.
Call the sales team at Central Carolina Scale at (919) 776-7737 to get one of these legal for trade scales for your business.